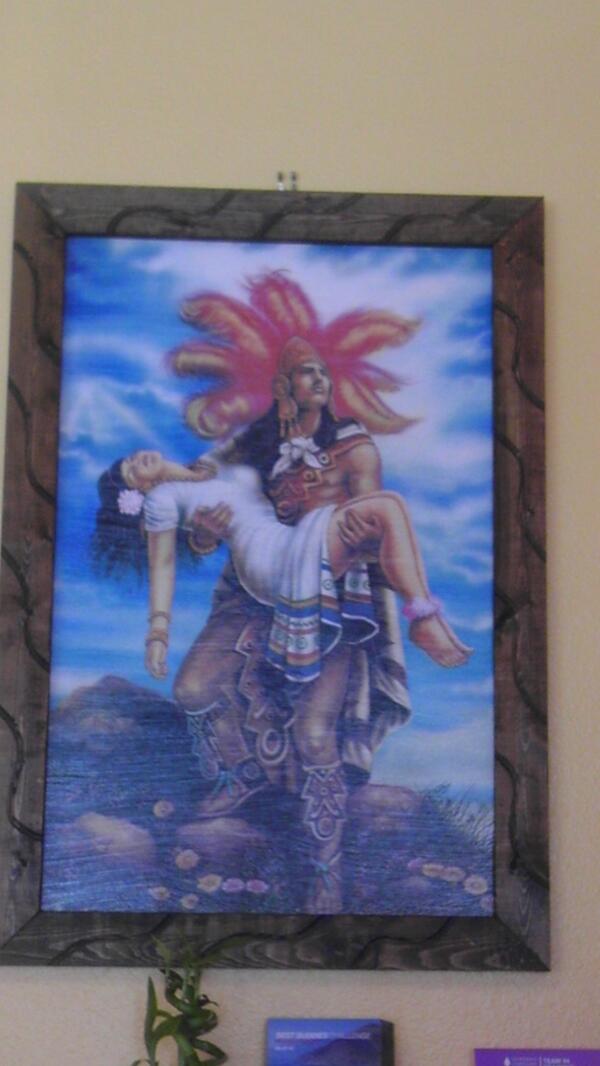 Written by Casey Deeha
An 'Island' is a fitting image to describe my experience of
Island Taqueria
by way of analogy. When one thinks of an island, duplicity can deliver two aspects: a paradise and/or a claustrophobic trap. In the first instance, one only has to watch some episodes of
Magnum P.I.
to relish in Magnum's Hawaii island paradise; in the latter, one can watch
Lost
to get a good understanding of how an island paradise can become the seventh circle of hell.
I was hopeful for
Island Taqueria
as it dawned some of the hallmarks of a classic and well-worn taqueria: garish colors, sparse Mexican decorations, and overtly sexual and badly painted images of Aztec men and women. However, my expectation of an island paradise would quickly turn into Aztec hell and I would be left still searching for a decent burrito in the non-metaphorical island of Alameda, which in itself is becoming more of an island of bad burritos. Where the image of the robust Aztec man with a flaming sanguine head dress carrying a voluptuous woman might harness impressions of heroism and pride, I envision a slightly more morose tale of a woman attempting to recover from that crazy man's burrito concoction. It is as if the man loured this innocent woman into his island cave for a first date only to pummel her with what has become only marginally better than the burrito I had at
Taqueria Las Comadres II in Montclair
, which can now be dubbed the penultimate worst burrito of BARB (Bay Area Review of Burritos).
It was a promising sight at first given that the size of the burrito was massive. However, upon picking up this island beast, I immediately noticed the gaping spaces inside indicating a very loosely rolled burrito, which was sadly confirmed when picking it up - all (yes all) the contents immediately fell out and I was forced to adjust my burrito eating methods. It wouldn't have mattered - the pinto beans were cold, the cheese wasn't melted, there was too much lettuce, the salsa was bland and there was absolutely no blend, and the tortilla was dry and cold. It was a shameful experience.
Sal, who was with me, was feeling ill and had her head on the table having opted out of a burrito. I was jealous of her even though she was suffering from nausea, which was some overwhelmingly fitting pathetic fallacy. With Sal's groans and the Aztec man's bludgeoning burrito hell, I wanted to escape this island metaphorically and literally. I only hope that Aztec man walked to the beach with that woman and fell to his knees crying, 'what have I done!?', which coincidentally was what I was saying as I rubbed my stomach and cast my sails for better shores.
Salsa Rating: cold watery salsa